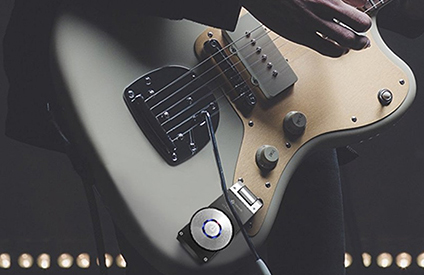 WS-20
Wireless System offers a reliable and affordable way to transmit your guitar (or any other electric musical instrument) signal, enabling you to break free from using cables. With a transmission distance up to 30 metres, you are afforded the freedom to roam the stage for a truly dynamic performance.
The WS-20 comes in the handy pocket-sized forms of a transmitter and its corresponding receiver. The design makes it very easy to use: simply plug in each unit into your guitar and corresponding amp/pedal chain, each unit will talk to each other and sync up, then you are good to go. Each unit is equipped with red LEDs that indicate whether or not the units have synced correctly. With an impressive 105dB dynamic range at your disposal, crystal-clear sampling at 24Bit/48kHz, and a frequency range spanning 20Hz to 20kHz, you can rest assured that the most subtle of nuances with regard to your performance are captured and transmitted with the utmost fidelity.
Product Features:
1. High-quality transmit with 48k-16bit sampling.
2. 2.4G uncompressed transmit.
3. About 30 meters transmit of outdoors.
4. 180° rotatable head, available for most music instruments.
5. Fit for all the electronic music instruments.
6. 900mAh lithium battery,USB port for charging.
7. It is easy to use, plug and play.
8. Support 6 sets of devices working at the same time, one-one.
9. 105DB dynamic range.
10.Material:ABS plastic
Production Parameter
Dimensions: 134(D) * 43.5(W) * 17(H) mm
Weight: 240 g (with box)
Accessory: USB cable * 1
Warning: Please use a qualified adapter to charge this product.
Don't have to deal with messy cords on stage,freedom to roam with an impressive 30 metre signal distance range.Extremely reliable for any gigging musicians.
Impressive battery life, with a 4-hour charge time offering 8 hours' performance,useful battery level indicator highlights 25%, 50%, 75% and 100% levels.
Transfer delay of 12ms ensures minimal latency, sampling rate at 24Bit/48kHz optimizes signal clarity.
Support 6 device working at same time,earphone and Aux In connections for active monitoring,Materials: Plastic(ABS). Lightweight, compact, easy to use design makes this a must have